VANESSA BENELLI MOSELL - DEBUSSY / DECCA CLASSICS
481 6552
buy
iTunes, Spotify, AMAZON...
BENELLI MOSELL's NEW ALBUM on DECCA CLASSICS celebrates DEBUSSY's centenary (1918-2018) with his 12 PRELUDES from the 1st book and the SUITE BERGAMASQUE.
Release date: 24 November, 2017
Vivement Le Classique / DG CLASSICS
buy
FNAC
Michel Drucker s'associe avec Deutsche Grammophon pour revenir sur ses rencontres avec les plus grands interprètes de la musique classique et pour partager avec le public ses coups de coeur de la Grande Musique. Vivement le classique: les plus grands airs de la musique classique, avec Roberto Alagna, Cecilia Bartoli, Vanessa Benelli Mosell, Camille Berthollet, Andrea Bocelli, Gautier & Renaud Capuçon, Henri Demarquette, Natalie Dessay, D.I.V.A, Juan Diego Flórez, Richard Galliano, Ivry Gitlis, Hélène Grimaud, Philippe Jaroussky, Katia & Marielle Labèque, Milo Karadagli, Lang Lang, Patricia Petibon, Pumeza, Nemanja Radulovic, Sirba Octet, Alexandre Tharaud et Rolando Villazón.
Release: 15 June 2018
ECHOES
481 629-9
buy
AMAZON
VANESSA BENELLI MOSELL et HENRI DEMARQUETTE font dialoguer le temps d'un disque Rachmaninov et Philip Glass autour de plusieurs œuvres majeures des deux compositeurs.
Release date: 05 January, 2018
RACHMANINOV: Piano Concerto No. 2 & Corelli Variations / LONDON PHILHARMONIC ORCHESTRA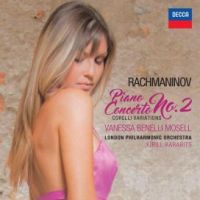 Cat. No. 4814393
buy
iTunes
Following her first two albums with Decca, which established Vanessa Benelli Mosell as a successful classical artist (pupil of Stockhausen and devotee to the development of classical music), her third album focusses on mainstream repertoire. Accompanied by the London Philharmonic Orchestra and conducted by Kirill Karabits, this album presents Rachmaninov's Piano Concerto No.2, considered one of the most popular pieces for piano. The concerto is coupled with one of Rachmaninov's most popular pieces for solo piano, Variations on a Theme of Corelli, Op. 42, which traditionally combines strong virtuosic playing with deep thinking.
Release date: February 24, 2017
LIGHT
Cat. No. 481 2491
buy
iTunes
Light is the ideal follow up to Vanessa Benelli Mosells debut album on Decca, [R]evolution.

This new album includes music by Alexander Scriabin as well as by her mentor, Stockhausen, thus putting together two composers both considered visionaries in their respective different historical periods.

Vanessa performs Scriabins 24 Preludes op. 11, which she considers to be one of the most accessible works of the composer and ideal start to discover this composer. She also plays the Etude op. 8 no. 12, one of Scriabins most frequently performed and popular works.
Another tribute to Karlheinz Stockhausen, the composer she studied with, comes the recording of Examen / Klavierstueck XIII: this recording continues with the purpose of introducing and presenting the piano music of one of the most crucial personalities of the XXth century.

Stockahusens Klavierstueck XII is extremely fascinating and picturesque, since the pianist also has to whistle, make all sorts of noise and browse between the string inside the piano.

"Sound as clear as possible...great technical skills and panache ... great interpretive power ... the energy and enthusiasm which Benelli Mosell has for Stockhausen shows her thorough approach plus the excellent sounding recording makes her contributions worthwhile".
Musicalifeiten, 2016
Release date: 25 March, 2016
[R]EVOLUTION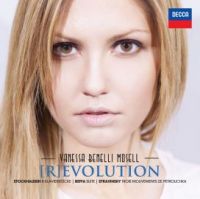 Cat. No. 481 1616
buy
iTunes
Debut Album on DECCA.
A tribute to the music of XX and XXI centuries including 8 of the Klavierstücke by Stockhausen, that Vanessa has studied with the composer himself.
The album includes one of the most famous masterworks of this century, Stravinsky's Trois Mouvements de Petrouchka, as well as the world premier Recording of Karol Beffa's Suite pour Piano ou Clavecin.
"The playing of Vanessa Benelli Mosell is full of magnificent prodigality."
- Télérama, June 2015
"Fearless..."
- The Guardian, June 2015
Release date: June 1st, 2015
Vanessa Benelli Mosell / Liszt
Cat. No. 94357
buy
Amazon
The second album of Vanessa Benelli Mosell, one of the most exciting pianists of the younger generation, contains a selection of works which Liszt regularly performed himself during his piano recitals (the piano recital itself, being a showcase for one artist only, was invented by Liszt). - Brilliant Classics
Her pianism is extremely refined and nuanced... Stylish bravura. - Gramophone
Release November 2012
FRANZ LISZT
Valse-Impromptu, S.213

Capriccio alla turca sur des motifs de Beethoven: Ruines d'Athenes S388 (1846)

La leggierezza - Étude de concert No. 2, S144

Hungarian Rhapsody, S244 No. 6 in D flat major

Hungarian Rhapsody, S244 No. 10 in E major

Hungarian Rhapsody, S244 No. 11 in A minor

Hungarian Rhapsody, S244 No. 12 in C sharp minor

Grand galop chromatique, S219
Soirees Musicales (Rossini-Liszt) S424: La Danza (Tarantella Napolitana)

Galop russe [Bulhakov] (first version), S478i

Liebestraum, S541 No. 3 (Nocturne in A flat major)
VIRTUOSO PIANO MUSIC
Cat. No. 94209
buy
Amazon
Introducing VANESSA BENELLI MOSELL
Sparkling technique in demanding music".."She leaves no doubt of her enviable facility throughout this, her ultrademanding debut Album. - Gramophone
A promising début recital, showing flashes of inspiration and virtuosity. Young female contemporaries might just have a contender waiting in the wings. - International Record Review
Release February 2011
PROKOFIEV
Piano Sonata No. 7 in B-Flat, Op. 83
LISZT
Rhapsodie Espagnole, S. 254
HAYDN
Piano Sonata in E Minor, Hob. XVI:34
SCRIABIN
Piano Sonata No.1 in F Minor, Op. 6
play
Pictures at an Exhibition - Mussorgsky; Tchaikovsky; Liadov; Scriabin; Tchaikovsky
Cat. No. B00BYN3WAM
buy
Amazon
Berlin Classics features Vanessa Benelli Mosell's recording of Prokofiev Sonata n. 7 and Scriabin Sonata n. 1.
Release November 2013
VIDEO